7 Safari Destinations That Should Top Your Family Travel Wish List
The setting for the greatest migration on the planet, for many, Kenya embodies the spirit of Sub-Saharan Africa.
Introduce your kids to members of wildlife they've never seen before with some of the top safari destinations in Kenya. Many safari itineraries take into account your children's age, your interests, budget, etc. making it a truly unique experience.
1. The Masai Mara
The Masai Mara is the site of one of the world's natural wonders, the Great Migration, often at the top of people's Kenyan safari wish list. Masai Mara's savannah landscape is rich in wildlife, pleasing to the eye, and gives a front-row view to the traditionally dressed Masai pastoralists herding cattle and goats. Masai in the southwestern portion of Kenya helps form the greater eco-system encompassing the Serengeti National Park in Tanzania.
Masai Mara is named for the Masai people and the Mara River, which divides it. Wildlife is not confined by the boundaries of the reserve. The entire park area is nestled within the Great Rift Valley.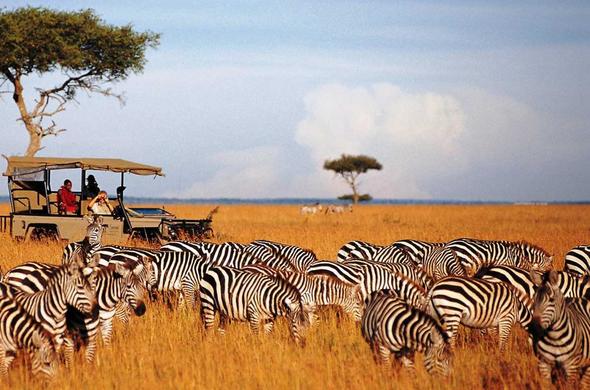 © kenyasafari.com
2. Samburu National Reserve
The Samburu National Reserve is located on the southern bank of the Northern Ewaso Ngiro River. Samburu is home to a great population of Nile crocodiles and is the second most popular Kenyan game reserve. Elephant, buffalo, and lions come to drink under the palms and shady acacias along with unique animals to northern Kenya that make up the "special five": zebra, giraffe, oryx, gerenuk, and Somali ostrich. Samburu has numerous lodges to choose from.
© Shadows Of Africa
3. Meru National Park
This National Park straddles the equator and is bisected by 13 rivers and streams. The scenery here is diverse, giving a view from the slopes of Nyambeni Mountain Range to wide open plains with riverbanks dotted by doum palms. In terms of wildlife, you can view lions, elephants, cheetahs, leopards, black rhino, zebra, oryx, and the rare antelope.
Over 300 bird species have been recorded, including red-necked falcon, Heuglins courser, brown-backed woodpecker, sunbirds Peter's Finfoot, Pel's fishing owl, Starlings, and weavers.
© Natural World Safaris
4. Amboseli and the Chyulu Hills
Amboseli is truly an oasis in the dry savannah, decorated with emerald-green, perennial swamps beneath the towering Kilimanjaro. This park is the best place in Africa to see elephants in dense concentrations.
Amboseli has several lodges and safari camps. A couple of noteworthy locations: Satao Elerai, in its own private conservancy close to the Tanzanian border offering dramatic views of Kilimanjaro, and Porini Amboseli Camp in the wilderness of Selenkay Conservancy, north of the park offering bush walks and uncrowded game viewing.
© Timbuktu Travel
5. Tsavo West National Park
Hilly landscapes dotted with dramatic black lava flows characterize Tsavo West. The Lumo Community Wildlife Sanctuary, south of Tsavo West, is one of Kenya's most successful new community conservation initiatives. Lumo offers competitive prices for your safari experience.
© Jungle Empire Africa
6. Lake Nakuru National Park
Nakuru is located on the floor of the Great Rift Valley, surrounded by wooded and bushy grassland. If you're in search of ecological diversity and varied habitats, this is a great destination. Lake Nakuru is ideal for bird watching, hiking, lunches, and game drives.
©andBeyond
7. Nairobi National Park
Nairobi National is just a short drive outside of Nairobi's central business district. The park offers wide open grass plains and a backdrop of the city skyline, and scattered acacias hosting a variety of wildlife including endangered black rhino, lions, leopards, cheetahs, hyenas, buffaloes, giraffes and over 400 species of bird. Visitors to the park enjoy picnic sites, campsites and walking trails for hikers.
© YouTube